Discover more from SRI'S BLOG
As a Merchant of Possibilities, I share a unique perspective on Bold vision, Disruption, Moonshots, Progress, Trend-setting, and Value creation.
Embracing Nature's Wisdom: Resolving the Office Temperature Debate through Biomimicry
We moved to a new office and our employees were going gaga about the new work environment. But that did not last long and a peculiar phenomenon began to unfold. People started congregating in the lobby, seeking solace from the relentless temperature battles that raged within the confines of our workplace. It seemed as though the humble AC remote controllers had become coveted artifacts, passed from one faction to another, each group vying for control over the elusive "perfect" temperature.
The situation reached a tipping point, and our astute HR department decided it was time to intervene. They embarked on a mission to unravel the mystery behind this never-ending office temperature debate. As they delved into conversations with our diverse workforce, a chorus of grievances emerged, echoing through the halls:
"It's freezing in here! I feel like I need to wrap myself in blankets just to survive the workday," lamented one employee.
"I constantly battle the cold, and it's sapping away my motivation. I find myself yearning for the comfort of the lobby," confessed another.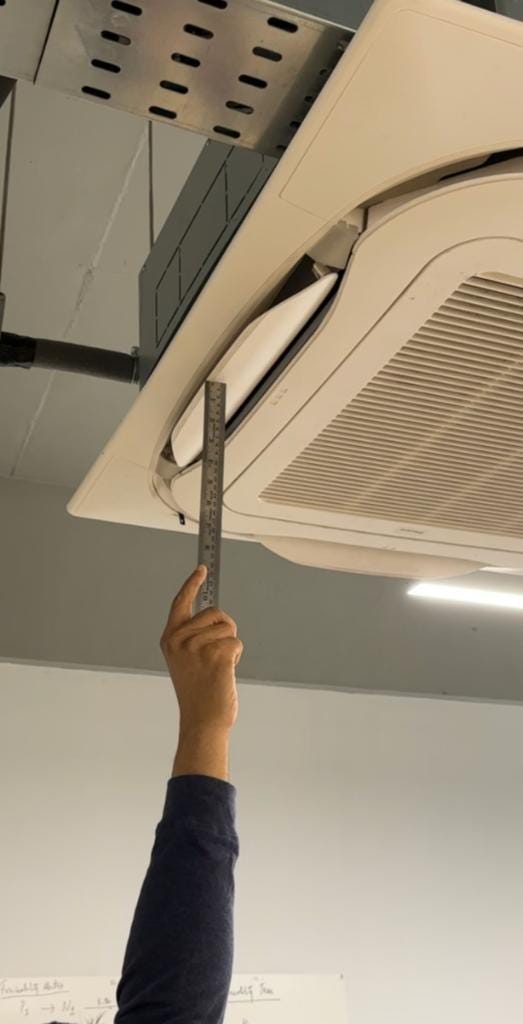 As their investigation unfolded, they stumbled upon a treasure trove of articles and studies delving into the timeless struggle over the ideal office temperature. Tales of thermostat wars, humorous anecdotes, and scientific inquiries painted a vivid picture of the global epidemic that had plagued workplaces for years.
Over lunch, We asked an important question? How does nature resolve such issues? and that opened us to the world of Biomimicry.
Biomimicry is a practice that learns from and mimics the strategies found in nature to solve human design challenges
Why learn from nature?
We have the innate potential to create a world that is harmonious, regenerative, and supports the well-being of all Life. As a young species, we are fortunate enough to have guidance to help us rise to this challenge. Our planet-mates, the fantastic meshwork of plants, animals, and microbes, have done billions of years of research and development. By infusing biological strategies in design, we can transform sustainable innovation. Source: What is Biomimicry?
Asknature is an amazing collection of Biological Strategies and Innovations that can be used to address our challenge.
Biomimetic Solutions:
Termite-inspired ventilation systems: Termites build mounds with intricate ventilation systems that maintain a constant temperature inside. By studying these structures, architects and engineers can design biomimetic ventilation systems that regulate air circulation and temperature in office spaces. This can help create a more balanced and comfortable environment for all employees.

Animal-inspired adaptive insulation: Many animals have adaptive insulation mechanisms that allow them to adjust their body temperature based on the surrounding conditions. By studying their thermal regulation strategies, researchers can develop biomimetic materials that provide adaptive insulation in office buildings. These materials can respond to temperature changes, ensuring optimal comfort for employees without excessive energy consumption.

Plant-inspired passive cooling techniques: Plants have developed various strategies to stay cool in hot environments, such as evaporation and shading. Drawing inspiration from these mechanisms, architects can incorporate biomimetic design elements, such as green walls or shading systems, to passively cool office spaces. This reduces the reliance on air conditioning systems and promotes a more sustainable and comfortable workplace.

Insect-inspired thermoregulation: Insects like bees and ants use collective behaviors to regulate the temperature within their colonies. By understanding their thermoregulatory mechanisms, office designers can develop biomimetic strategies that optimize heating and cooling systems based on occupancy patterns. This can lead to energy-efficient temperature management in shared office spaces.
Embracing biomimicry in office design not only resolves the temperature debate but also nurtures a culture of sustainability and innovation. Let us look to nature's wisdom and unlock its secrets to create optimal working environments for everyone.
What are the possibilities that you envisage solving via Biomimicry? How can nature's wisdom inspire innovative solutions to other challenges beyond the office temperature debate? Share your thoughts and ideas on the potential applications of biomimicry in various fields and industries. Let's explore the limitless possibilities together!
Thanks for reading SRI'S BLOG! Subscribe for free to receive new posts and support my work.